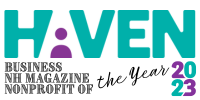 Salary Range
$20.00 - $20.00
About the Organization
HAVEN, formerly known as A Safe Place and SASS officially merged in July of 2015 becoming the largest violence prevention and support services agency in NH. We are dedicated to addressing public health through violence prevention and improving the well-being of children and families. Preventing abuse and providing support for those impacted by domestic and sexual violence can lead to healthier and more secure children and adults. Our mission is to prevent sexual assault, domestic violence and stalking and to support and empower women, men, youth and families to heal from abuse and rebuild their lives. Through a 24-hour client service support program and a Safe Kids Strong Teens K-12 Prevention education program, this organization provides services to individuals and families throughout Rockingham and Strafford Counties.
About the Job
Description
 RESPONSIBILTY
This position works remotely to provide supervision and support to on-call advocates and to provide direct client services, including in-person support, when necessary, for night, weekend, and holiday coverage.
ACTIVITIES
Coordinate with the Supervisor of Crisis Services on all aspects of service provision.
Check in and provide supervision, information, support and debriefing to the volunteer advocates on-call for the hotline, and for police and hospital accompaniments as per the Night Staff Guidelines.
Provide confidential advocacy for hotline calls, police and hospital accompaniments, when necessary.  Call for Staff Backup to cover Night Staff duties, if called out.
Address any issues or problems that arise with our answering service with the Staff Backup on duty.
Contact Staff Backup or Manager Backup for support or questions when needed.
Respond to requests for accompaniments from police stations and hospitals by gathering pertinent information and sending out the on-call advocate, then checking-in and debriefing with the on-call advocate upon their return. If there is no advocate available, the Night Staff will go out instead and call Staff Back up to cover the hotline.
Respond to Lethality Assessment Protocol (LAP) calls from Police. 
Collaborate with Shelter staff (when on duty) on shelter assessments and other shelter issues.
Reach out to Shelter Manager, Staff Backup, or Manager Backup for assistance in emergency situations that may arise when the HAVEN shelter is not staffed.
Check in with the Supervisor of Crisis Services to provide a shift update and/or to relay any follow-up services needed for the next business day.
Input all client information into database in a timely manner.
OTHER
Attend regularly scheduled Night Staff meetings and trainings needed to maintain advocate certification.
Participate in supervision sessions with the Supervisor of Crisis Services.
When possible, attend the Night Staff Panel at core advocate training sessions.
Encouraged participation in Quarterly Staff Meetings.
Encouraged participation in outreach activities and special events.
QUALIFICATIONS
EDUCATION:  Associate Degree and/or three years related experience required. 
SKILLS:  Effective communication skills, mentoring skills, ability to exercise good judgment and possess critical thinking skills, crisis intervention and advocacy skills. Must complete 30-hour advocacy training prior to the provision of direct services. Note: Specialized training for Night Staff is provided following completion of advocacy training.
KNOWLEDGE:  Understanding of and sensitivity to the dynamics and effects of domestic abuse and sexual assault.  Knowledge of local community resources.
TRAITS:  Ability to work independently, flexible, team player, compassionate, dedicated, maintain healthy boundaries, professional, be culturally sensitive and passionate about the issue of sexual and domestic violence.
From Haven's inception, Diversity & Inclusion have always been key to our success. We are an Equal Opportunity Employer and our employees are people with different strengths, experiences and backgrounds, who share a passion for improving people's lives. Diversity not only includes race and gender identity, but also age, disability status, veteran status, sexual orientation, religion and many other parts of one's identity. All of our employee's points of view are key to our success, and inclusion is everyone's responsibility. Diversity, Equity, and Inclusion relate to and are inextricably linked with all aspects of HAVEN's mission to end violence and change lives and how we aim to do this vital work.  A commitment to issues of DEI positions HAVEN to improve the quality of the experience for our staff, volunteers, clients and community. 
STATUS OF POSITION
HOURS:  On-call Nights, Weekends and Holidays, Shifts are typically 10- or 12-hour shifts
Hourly position – Per Diem -   Non-Benefits Eligible 
$80/shift $20.00/per hour
REPORTS TO: Supervisor of Crisis Services
How to Apply
Interested candidates should submit cover letter and resume to the e-mail address provided
More Jobs from HAVEN Violence Prevention and Support Services