NH Center for Nonprofits Announces Graduates of Hoffman-Haas Fellowship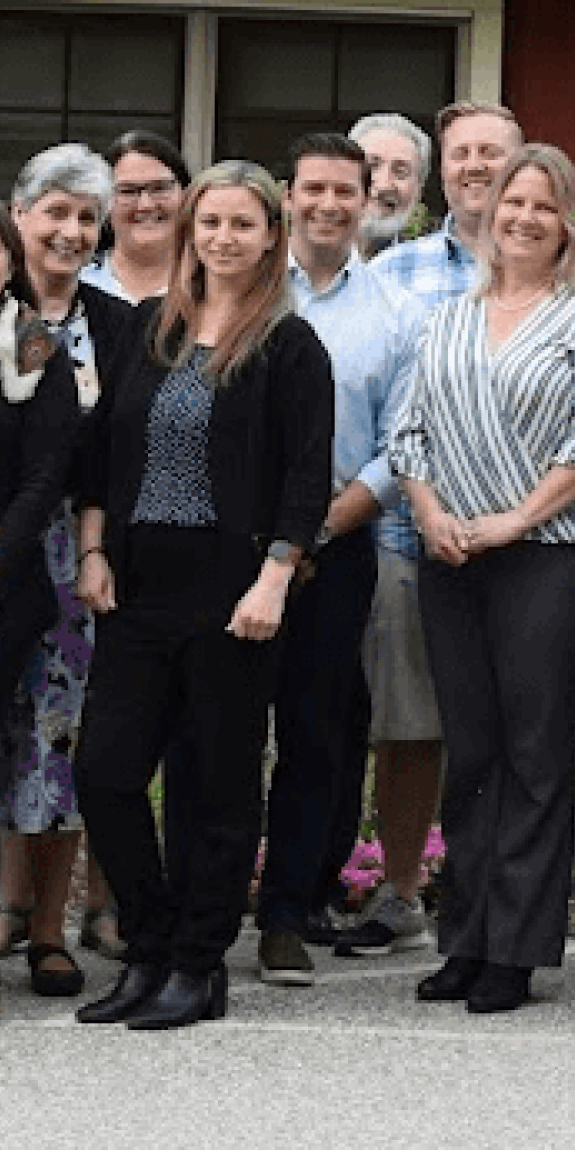 Twenty new graduates completed the Hoffman-Haas Fellowship, a nonprofit board leadership program of the NH Center for Nonprofits. Each of the graduating Hoffman-Haas Fellows received mentoring from an experienced board member and attended workshops with nationally recognized experts on topics of fiscal strategy, sustainability, fundraising, and governance.
The Fellowship responds to the critical need for an expanded and diverse pool of community leaders who are ready to bring their talent, passion and commitment to volunteer board service. Since the 2014 program launch, 316 Fellows and Mentors from across the state have completed the program. The 2022 cohort was generously sponsored by Cambridge Trust, with additional support from McLane Middleton, Merrimack County Savings Bank, and Penchansky & Company. Named in honor of two NH philanthropists known for their dedication to the vibrancy of our state and the well-being of families, the Hoffman-Haas Fellowship honors John E. Hoffman Jr. of Sullivan and Thomas W. Haas of Durham.
The graduating Fellows of the 2022 cohort are:
| Name | Employer | Hometown |
| --- | --- | --- |
| Ricardo Andino | Northeast Delta Dental | Concord |
| Justin Benton | Executive Health and Sports Center | Manchester |
| Margaret Byrnes | NH Municipal Association | Concord |
| Ryan Cronan | The Richards Group | Concord |
| Laura Dodge, Esq. | McLane Middleton | Manchester |
| Caitlin Garcia | A.M. Peisch & Company, LLP | New London |
| Anne-Marie Hafeman | Elliot Hospital | Manchester |
| LeaAnne Haney, RDH, CPHDH | Northeast Delta Dental | Concord |
| Kim Ip | New Futures | Concord |
| Amanda MacLellan | Lawrence Public Schools | Manchester |
| Heather McCann | New Hampshire Housing Finance Authority | Manchester |
| Jeffrey Musk | Sprague Energy | Portsmouth |
| Erin Schaick | CATCH Neighborhood Housing | Concord |
| Priyanka Sharma | NH Dept. of Education | Manchester |
| Elliot Smith | BankProv | Bedford |
| Marissa Strong | AmeriCorps | Plymouth |
| Michael Tanner | BAE Systems | Bedford |
| Erin Terry Woodman | Bank of America | Nottingham |
| Grant Van Der Beken | The Hartford Group Benefits Division | Bedford |
| Maureen White | Pearson VUE | Atkinson |
The Mentors of the 2022 cohort are:
| Name | Employer | Hometown |
| --- | --- | --- |
| Janet Ackerman | Eastern Bank | Manchester |
| Borja Alvarez de Toledo | Waypoint | Manchester |
| Byron Champlin |   | Concord |
| Dean Christon |   | Manchester |
| Bradford Cook | Sheehan Phinney | Manchester |
| Matt Cookson | Cookson Strategic Communications | Manchester |
| Kelli D'Amore | Nathan Wechsler & Company | Deerfield |
| Carrie DiGeorge | Bangor Savings Bank | Bangor, ME |
| Jeff Feingold | NH Business Review | Manchester |
| Bill Glahn | McLane Middleton | Concord |
| Marcia Kelly |   | Hanover |
| Ken Koornneef | Nobis Group | Concord |
| Maria Manus Painchaud | Manus/Painchaud Associates | Concord |
| Susan Martore-Baker | Cambridge Trust Company | Concord |
| Tom Mongeon |   | Hampton |
| Kate Murray |   | New Castle |
| Deb Ritcey | Granite State Independent Living | Concord |
| Wayne Robinson | Manchester-Boston Regional Airport | Goffstown |
| Connie Roy-Czyzowski |   | Manchester |
| Peggy Senter |   | Dunbarton |
| Cliff Simmonds | NH Children's Trust | Concord |